Being a gardener is a bit of a mixed bag. Although the last few weeks have brought days when I have been soaked to the skin and windswept, Autumn sunshine, when it does show its face is a rich and glorious thing. 
Far from the watery light of the spring and the burning heat of the summer, Autumn sun is golden and warm. It peaks through red and orange leaves in all its burnished glory and makes everything glow. 
In the garden it is a time of colour – the leaves turn, the dahlias flourish and the pumpkins are ready for picking. Its only recently that I've begun to appreciate the joy of the huge array of squashes and pumpkins that we can so easily grow and enjoy, with their unique shapes and colours trailing across the vegetable patch in splodges of colour.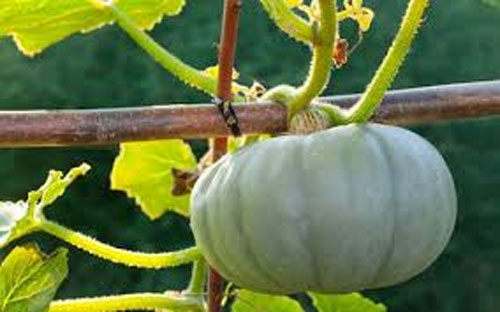 My favourite this year has been Crown Prince, a beautiful glaucous blue fruit with bright orange flesh and a sweet taste. As its quite hard to chop, I'd recommend getting a smallish one, they seem to taste nicer too. 
The recipe opportunities are endless, they make delicious soups and are a great addition to stews, but here are some of the things I used them for…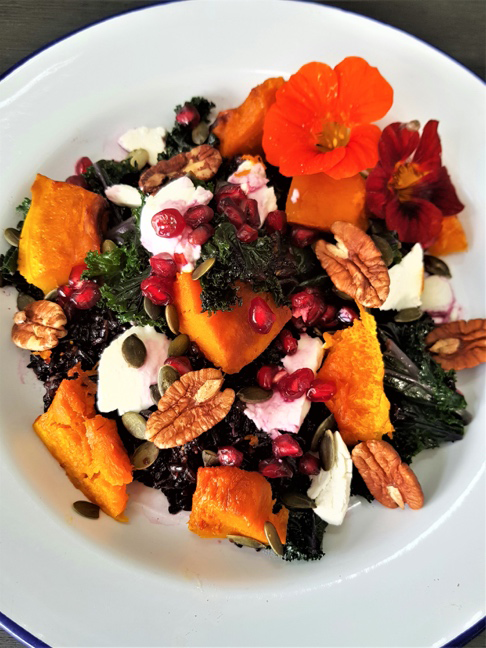 Pumpkin, cavolo nero and goats cheese salad

 
This salad is barely worthy of a recipe because you could pretty well make it with anything you've got spare in the fridge, but I must say there is something delicious about creamy, tangy goats cheese and sweet smooth pumpkin. 
I mixed some black rice with steamed cavolo nero, drizzled with lemon juice and a pinch of salt, and topped with roasted pumpkin, goats cheese, pecan nuts, pumpkin seeds and pomegranate (with plenty of juice!)
It's worth roasting the whole pumpkin – whatever you don't use can be blended up with some spices and used for other recipes such as the next one.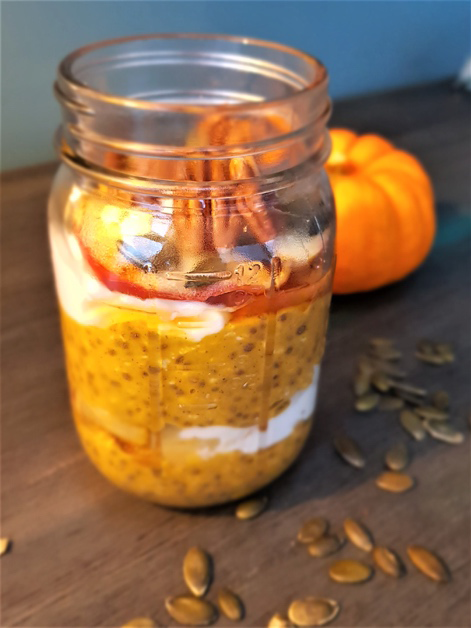 Pumpkin pie overnight oats
This is a wonderful autumn breakfast or desert, with warming flavours of ginger and cinnamon and sweet pumpkin and its high fibre content will help keep you going all morning. 
Overnight oats are also a fantastic way of preparing ahead so you don't have to do anything in the morning! 
Pumpkin puree is made simply by blending roasted or steamed pumpkin with a handheld stick blender or food processor. It can be quite dense depending on the variety you are using so you can add water to help make a smooth consistency until it is like thick yoghurt. Once made, you can season with cinnamon, ginger and nutmeg and freeze in portions ready for recipes like this. Occasionally the pumpkin with separate in the freezer but this is easily overcome by blending again for a minute or two once defrosted. 
Ingredients

 
3 tbsp oats

 

½ tbsp chia seeds

 

1 tbsp pumpkin seeds

 

1 tbsp ground flax (or use more oats if you don't have any)

 

½ tsp each of cinnamon and ground ginger

 

1 handful sultanas

 

2 tbsp pumpkin puree

A drizzle of honey or maple syrup (optional)

 

100ml milk of your choice (I used oat) plus more if needed

 
Method:
Mix all the ingredients together in a bowl with enough milk so that it covers the oats with 1 cm on top. Leave in the fridge overnight. In the morning give it a stir and add more milk if desired until it is a bit like porridge. 
Then add toppings – pan fried apple, pecan nuts, yoghurt, a drizzle of honey or maple syrup, almond butter, whatever takes your fancy! If you want to make more than one at a time, they will keep for a  few days in the fridge for instant delicious, nutritious meals.