Christmas is coming. Try as I might to ignore it, the festive season is upon us and the frosty mornings and low golden sunlight have made everything feel Christmassy to me much earlier than usual.
Plans, recipes and present ideas are filling my head but from somewhere deep in the archives of my brain I remembered these fabulous festive recipes that I would love to share with you. 
Beetroot, coconut and lemongrass soup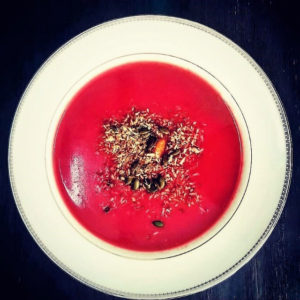 This warming, velvety soup is just the best colour and is full of flavour, perfect for any lunch party or for guests staying over the holiday. Make plenty while beets are in season and freeze in batches for some colourful ready-made meals in the new year. 
Ingredients (Serves 4) 
1tbsp coconut oil

 

1 red onion, finely sliced
2 garlic cloves, finely chopped

 

3 medium raw fresh beetroot, peeled and grated
1 inch piece of root ginger, finely chopped

 

1 tsp ground cumin

 

1 tsp coconut sugar (or brown is fine)

 

2 stalks lemongrass bashed with a rolling pin
500ml vegetable stock
1 tin coconut milk

 

Juice of 1 lime

 

Salt and pepper

 
Method 
Sweat the onion in the oil for 10 minutes with the lid on until soft. Add the garlic, ginger and cumin and turn up the heat for a couple of minutes. 
Add the beetroot, coconut sugar, and stock, then nestle the lemongrass into the juice. Simmer for 15 minutes. 
Add the coconut milk, lime juice and seasoning. 
If you are in a hurry, remove the lemongrass, blend and serve, but if you have time, leave the lemongrass to permeate in the mixture overnight before blending; you can really taste the difference.  This would be fantastic with some goats cheese or seeds sprinkled on top, or with croutons, crackers or crusty sourdough. 
Christmas chocolate truffles

 
Simple yet decadent, these scrummy truffles can be made in advance and kept in an airtight container in the freezer until they are needed. Although they don't taste it, they are gluten, dairy and refined sugar free and look so pretty too, a really easy treat to add to the table. 
Ingredients 
(makes about 16 truffles) 
200g coconut cream (one packet)

 

3 tbsp light tahini
1 tbsp raw honey

 

2 tbsp cacao powder

 

Pinch of salt

 

Cacao nibs/shredded coconut/freeze dried raspberries/goji berries to roll the truffles in

 
Method 
Warm the coconut cream in a pan, stirring constantly until it is melted but not too hot. 
Take off the heat, add the tahini, honey, cacao and salt. Stir well and then refrigerate until cool (don't leave it too long or the mixture will go hard and be tricky to make into balls! 
Once cooled, mould into equal truffles and roll in your chosen topping. 
Leave to set in the fridge and store in an airtight container.

Mid-Winter blessings to you all and a happy and healthy new year!