the ritual of afternoon tea
Over 200 years ago, the Duchess of Bedford began our island tradition of afternoon tea.
As the clock ticks nearer to 4pm, ladies abandon their books and complete their last circuit of the rose garden. In the drawing room, dust motes float lazily through the rays of light and stir as she whips through the room and stokes the fire. Polished low tables nestle between comfortable armchairs, pretty plates are carefully laid, holding starched napkins compelled into neat folds, glistening silver tea spoons and dainty tea cups balanced on scalloped saucers. Tasty tiny sweets wink mischievously and anticipated gossip trips onto the tips of tongues as they gather for afternoon tea. 
Out in the garden, he drops his spade and straightens his back, wincing. He trudges to the back door of the kitchens where a cat lingers hopefully. Cook hums under her breath inside and a low whistling kettle sounds increasingly urgent. He drops onto a weathered bench and turns his tired face into the late afternoon sunshine, feeling the warmth through his eyelids. The door opens and cook balances the tray carrying a streaming brown teapot, two blue mugs and a plate of tea cake bursting with fat sultanas onto an old log. She rests next to him, leans her ankles up on the wood pile and chatters while he pours the tea.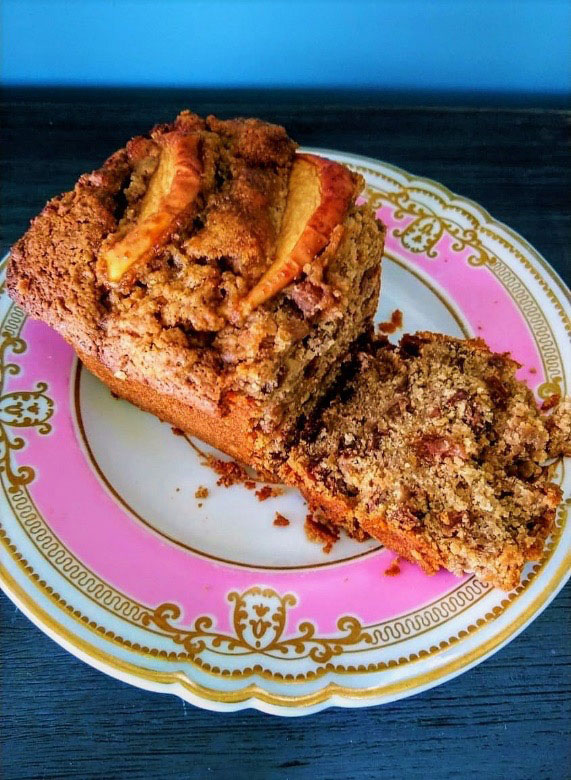 Earl Grey, Apricot and Apple Tea Bread
Ingredients
100g dried apricots 
100g sultanas 
200ml strong earl grey tea (bag in) 
30 g melted butter 
175g gluten free flour
2 tsp baking powder 
1 tsp mixed spice
120g coconut sugar (plus a sprinkle for the top)
85g ground almonds 
1 large apple cut in half 
Method
Soak the dried fruit in the tea for at least 4 hours (ideally overnight). 
Line a 900g loaf tin with baking parchment and preheat the oven to 160 degrees. 
In a large bowl, mix the flour, baking powder, sugar, spice almonds and a pinch of salt. 
Add the melted butter, half of the apple grated, egg, drained soaked fruit and 2 tablespoons of the tea mixture. 
Spoon into the tin, slice the remaining half apple, dip the slices into the tea liquid and arrange on the top with a sprinkle of sugar. 
Bake for 1 hour. Check and cover with foil to prevent burning then bake for a further 30 minutes until a knife comes out clean. 
Cool in the tin for 30 minutes then serve with butter or just as it is. 
Today, in our world of instant gratification and multitasking, where we speak to our friends and workmates through wires, when we eat at our desks and take pills to replace sunshine, afternoon tea remains the most sacred of rituals and perhaps it is more essential now than ever. We sit with our friends and talk, we meet neighbours and learn about our community. We bake food and drink tea, we stop our work if just for a moment and look around us.
Makes about 8 (adapted from the recipe by Lucinda Miller) 
Ingredients
80g melted butter
1 egg 
40g blackstrap molasses 
40g coconut sugar 
½ tsp vanilla extract 
200 g spelt wholemeal flour 
½ tsp baking powder 
1 tsp cinnamon 
½ tsp ground ginger 
Method
Mix the butter, egg, molasses, sugar and vanilla in a large bowl until smooth. 
Stir in all the remaining ingredients until a thick sticky dough forms. 
Cover and chill for 30 minutes.
Preheat oven to 160 degrees and line a tray with baking paper. 
Flour a surface and roll out the dough to 3 mm thick, then cut out shapes and place on the prepared trays. 
Chill again for 15 minutes then bake for 10 – 12 minutes and leave to cool. 
Meanwhile, melt the chocolate in a bowl over a pan of boiling water. Dip the gingerbread feet in the chocolate and lay on a plate covered with baking paper. Chill in the fridge to set the chocolate for 15 minutes and enjoy.