Isolation – cooking for victory!
As day 7 of 'lockdown' dawns, realisation hits that while we have an ample stock of loo paper, a random and diminishing array of food lurks in the fridge – a few parsnips, a slightly flimsy looking cauliflower, some greening potatoes, a block of emergency tofu, nothing particularly inspiring! Sound familiar? 
Yesterday we played freezer roulette – shut your eyes and whatever you pull out must go in the next meal. Out came some frozen grapes and a whole chicken (and an ice lolly but that doesn't really feature in this post). 
The next game is how do we make this chicken last more than one meal? 
Here are some ideas based on what we did… chicken three ways. 
Roast Chicken with grapes and sourdough
Method 
– Preheat the oven to 200C (180C fan) Place a chopped onion and 3 chopped garlic cloves in a roasting dish. Place the chicken breast side down on top of them and squeeze a whole lemon (if you have one) into the cavity before stuffing the rest of the lemon inside it. Drizzle the top of the chicken and the onions with olive oil and season. Roast for 20 minutes. 
– Remove from the oven and add 150ml white wine, stock or water to the roasting tray, turn the chicken over so it is breast side up and roast for a further 20 minutes. 
– Remove from the oven, add around 200g of grapes (ideally black but mine were a mixture of green and red and it worked fine) and some torn sourdough chunks (I used half a leftover loaf, but use what you have, it doesn't have to be sourdough). Replace in the oven with the chicken breast side up for a further 30 minutes. 
– Check that the chicken is cooked, golden and that the juice is sticky. If not, cook for another 5-10 minutes. If it is ready, leave to sit for 10 minutes before serving with the grapes, crunchy sourdough and caramelized roasted onions. 
(with the flimsy cauliflower cheese, well trimmed and peeled slightly greening potatoes and some greens, also from the freezer!)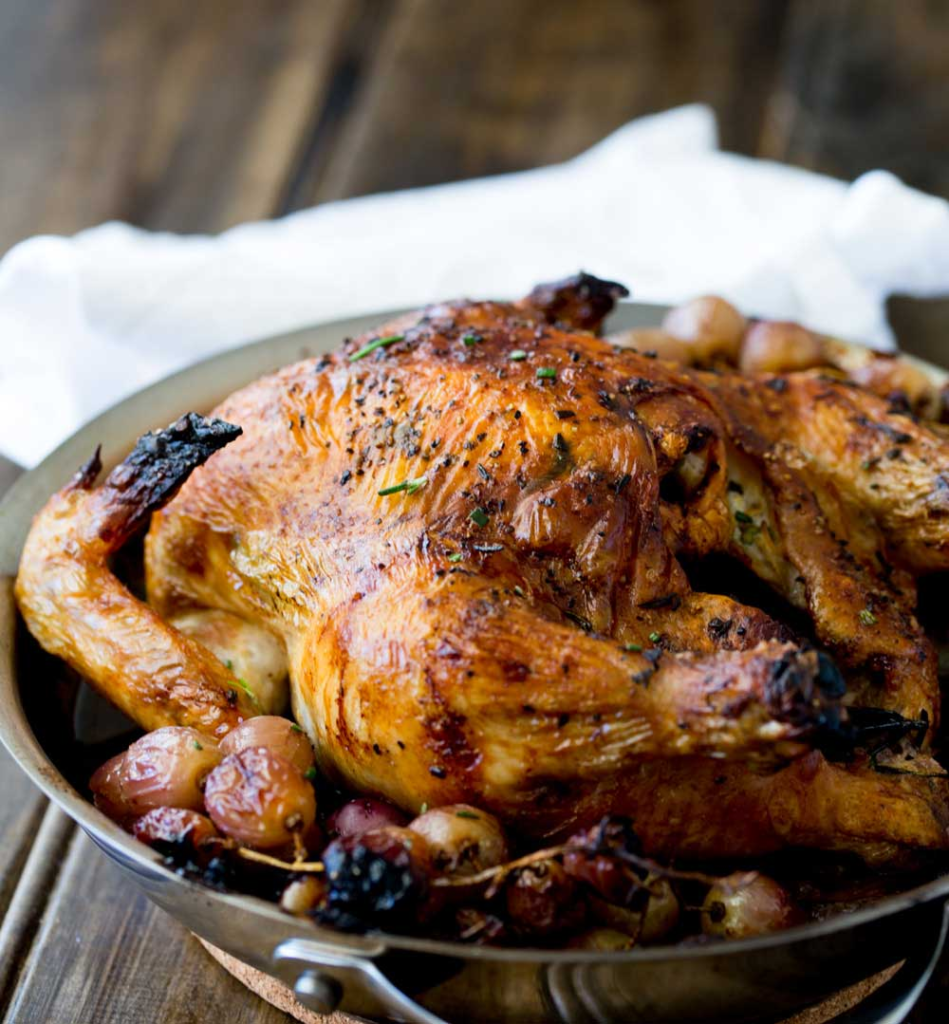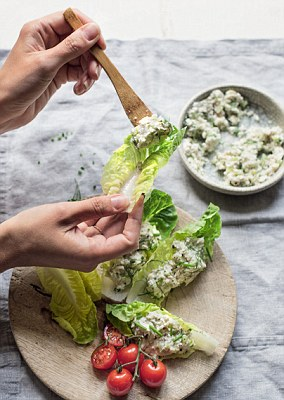 Chicken pate with walnuts and apple and sultanas
Next up, this beautiful pate, which is based on a wonderful recipe from Amelia Freer. 
There was some roast chicken left so this is what we did with the remainder.  It's a little like a waldorf salad and is super easy. 
– Chop up the roast chicken (breast, leg, whatever you have) with a pair of scissors in a bowl. 
– Add a dollop of natural yoghurt (coconut yoghurt also works here) and a handful of chopped walnuts, a sprinkle of sultanas, half an apple sliced into small chunks and a handful of chopped parsley or chives if you have some fresh herbs. 
– Mix together with a squeeze of lemon juice, salt and pepper. This is delicious in a sandwich, or with crackers, salad or crunchy celery. 
Finally, with the remaining chicken carcass, we made a beautiful bone broth to use as a base for tomorrows carrot soup!  
Can be used as stock in soup, stew or curry. 
Bone broth is a magic elixir, it contains glutamine, an amino acid protein, which helps to heal the lining of the gut. This lining can become damaged by factors such as stress, poor diet, medications, alcohol and smoking, leading to food sensitivities, inflammation and a compromised immune system. 
This delicious broth freezes well and can be drunk on its own or as part of another dish. Give it a go! 
– Place the chicken carcass (or other meat bones) in a slow cooker or large pan. Add any vegetables you have left in the fridge (an onion/bit of parsnip/carrot/celery), a bay leaf and a squeeze of lemon or dash of cider vinegar. 
– Then simply simmer slowly for as long as possible. If you are using a slow cooker, put it on low overnight. 12 hours is ideal, or if it is on the hob, 6 hours is fine. 
– Strain out the bones and vegetables and store the liquid in the fridge.